INDUSTRIAL BLENDER / MIXER FEATURES
Tumble Drum Industries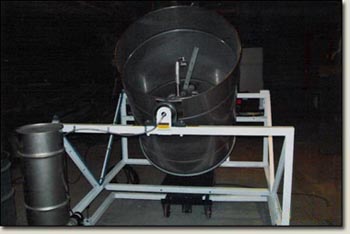 A Tumble Drum Mixer
One of our main strengths at Tumble Drum Industry is the ability to build custom mixers (5 - 55 - 2600 gallon units) and mixing equipment accessories at a reasonable cost with great quality and service. We are able to build industrial mixers that fit our clients' specific systems needs whether it's a small 5 gallon manual mixer, an industrial 55 gallon drum mixer, or a large capacity hydraulic 1,000 gallon mixer for a commercial food manufacturer, large batch feed mixing operation, etc. Our custom drum mixers come in all shapes and sizes with the following options.

Options For Tumble Drum Mixers

Power Options:
Electric
Hydraulic
Pneumatic
PTO
Manual Hand Crank
Drum Sizes:
5 - 2600 gallon (U.S.) (55 gal. mixer most common)
Capacity:
6 - 133.68 cu. ft.
Mixing Capacity:
4 - 80 cu. ft.
Drum Options:
Mild steel 16 ga
304 stainless steel 13ga
404 stainless steel 14ga
Stainless steel food grade 14 ga
Extra Drums - open head removable drum mixers
Internal Mixing Paddles:
Standard Blade - mixing, blending
Scrapper Blade - for cleaning system
Shaftless - used with open head frame
Shear Knife - cutting action paddle
Manifold - for steam, liquid induction
Frames:
Standard Frame
Open Head Frame - for removable drum system
Tilt Frame - manual operated
Tilt Frame - hydraulic operated
Tilt Frame - electric operated
Tilt Frame - pneumatic operated
Custom Static Frame: built to custom dimensions
Load / Unload Spouts:
Dust Proof
Liquid Proof
Other Mixer Options:
Stationary / Stand Mixers
Wheels and Handles - shop mobile / portable
Trailer Mounted - distance portable mixer
Reversible Switches - mixer rotates both directions
for cross mixing
Flat Bed Trailer Mounted Mixers - for mobile
mixing operations
"We at Tumble Drum Ind. have set a new high standard for the Batch Mixer Industry. We build 5 gallon manual mixers, stand / stationary - portable - or truck mounted 55 gallon drum mixers, and custom 1,000 gallon commercial blenders. Power options include electric, hydraulic, pneumatic, PTO, and manual. Drums are made of mild steel, stainless steel, or Kroalon stainless steel for food processing applications.
Gordon Dorn
President of Tumble Drum Ind.
Denver, Iowa