History Of Tumble Drum Industries / Miracle Mixer
Tumble Drum Ind., home of the Miracle Mixer, is located in Denver, Iowa in the northeast corner of the state.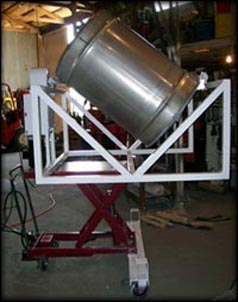 Founded in 1981 by Gordon Dorn, Tumble Drum Ind. is a manufacturer of high quality mixers for processing and manufacturing industries worldwide. With customers in over 20 countries, we serve farmers and manufacturers as these industry groups: farms, foods, pharmaceuticals, cosmetics, luboils and petrochemicals. Time after time, companies specify Tumble Drum mixers as the "standard" equipment for their manufacturing process. Other mixers have been replaced with our mixer because you get a complete mix in 15 seconds with little effort due to the throwing action and perfect balance. In 2008 we're now selling drum mixers with a 4' scissor lift which makes loading & unloading of contents far easier. See left-hand photo.
The key to our success is based on the professionalism and commitment we show to each of our customer's needs. Whether supplying machines from a standard range of mixers or designing equipment specifically to meet an individual customer's requirements, quality is a commitment that is strictly adhered to.
We cordially invite you to get to know us through our Website as you explore our product line so that we have an opportunity to demonstrate our commitment to making the best mixers available. If you would like more information, feel free to drop us an E-mail or call us.
See Features Page for mixer options!
"We at Tumble Drum Ind. have set a new high standard for Batch Mixer Manufacturers. With customers in over 20 countries, we serve farmers and manufacturers in these industry groups: farm, food, pharmaceutical, cosmetic, lubricant and petrochemical. Our mixers / blenders are cost efficient and more versatile than our competitors with our patented design."
Gordon Dorn
President of Tumble Drum Ind.
Denver, Iowa


2 Images Of Our Small Hand Cranked Mixer